The Tutu Project: Bringing Joy to our Quarantined Community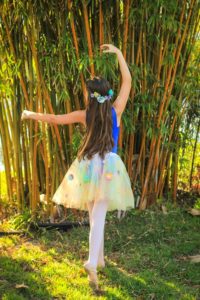 Amidst the pandemic outbreak, Ballet Palm Beach, among many other local businesses and organizations, decided to close its doors for the safety of its dancers, teachers, and academy students. Though quarantine was not the most ideal situation for its youngest ballerinas, the Ballet Palm Beach Academy powered through the setbacks, offering its students free, virtual ballet classes via Zoom with their beloved BPB teachers. "We [had] been offering tuition-free, virtual classes for our students, but I wanted to do something more," said Colleen Smith, the Artistic Director of Ballet Palm Beach and School Director of the Academy.
So, what more could be done to bring the Ballet Palm Beach family together? With International Dance Day right around the corner, company dancers and academy teachers developed a creative way to bring smiles to the faces of their beloved academy students. Thus, the Tutu Project was born. Academy faculty, clad in BPB
T-shirts and tutus, drove from Boca Raton to Stuart delivering tutus to over 125 students while offering words of love and support to the families. In celebration of International Dance Day, students were encouraged to get creative, with many decorating and dancing in their tutus to share with fellow classmates.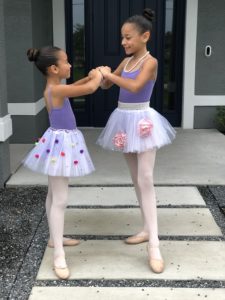 Though it was brief, the reunion of academy teachers and students proved to be a touching moment that the BPB faculty won't soon forget. Miss Julie, a ballet teacher at Ballet Palm Beach Academy for the past 16 years, explains, "In our recent Tutu project, Mr. Marshall was the pilot and navigator, and I had the lovely role of presenting each student with their tutu, much like a 'tutu telegram'. Mr. Marshall and I drove from Jupiter to Royal Palm to Boca Raton. It was a two-day 'Santa Clause- like' experience! To see each student's face light up at the receipt of their gift was beautiful. I was glad to be a part of the venture!"
The Ballet Palm Beach family has remained united through thick and thin, and the Tutu Project is just one of the many examples of the bond that lives within this community of dancers. Smith explains, "Our Tutu Project was a wonderful way to stay connected to our students during the isolation period due to Coronavirus. I was so thrilled to see the excitement from our dancers and families as they received our gift and then created their tutu masterpieces! Our Tutu Project was a blessing not only for our Ballet Palm Beach family but also for me. These have been unusual times to be sure, but the family that is Ballet Palm Beach has once again shown that our school has more to offer than just dance! The Ballet Palm Beach Company and Academy are about using dance to build community."
Pictured:
1-BPB Academy Students Bella and Chloe Tejada
2-BPB Academy Student Julia Bramham