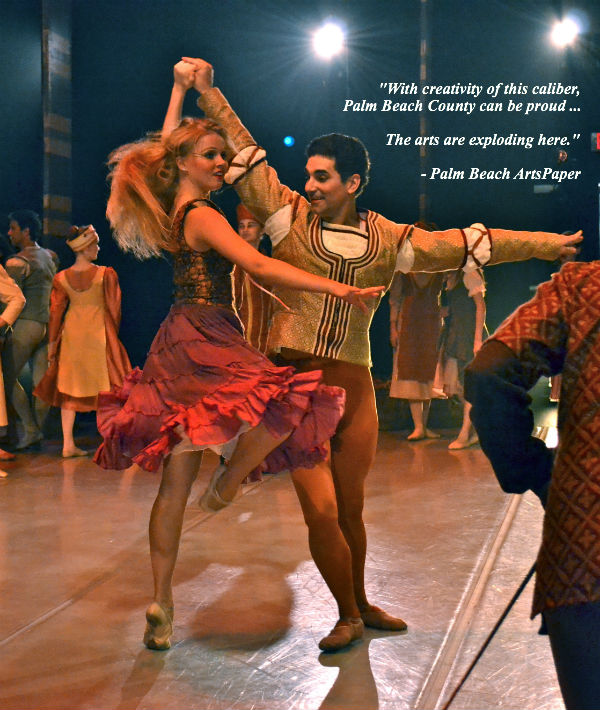 Mission
Ballet Palm Beach is a nonprofit 501(c)(3) professional ballet company dedicated to preserving the art of classical ballet, cultivating new visions in choreography, impacting the next generation through the discipline of dance, and enriching the community through this universal art form. Founded by Artistic Director Colleen Smith in 2001, Ballet Palm Beach is the professional ballet company of Palm Beach County. The company strives to enrich the community and abroad through its numerous outreach programs and community performances. Its school, Ballet Palm Beach Academy is located in Palm Beach Gardens with classes offered to students beginning at age 3 years old. For more information about Ballet Palm Beach call 561.630.8235.
History
Colleen Smith began Ballet Palm Beach in 2001 as a small civic company, under the name Florida Classical Ballet Theatre. Her aim was to give dance students in Palm Beach County the opportunity to perform in full-scale classical ballets through this new organization.
From 2001 to 2012 the company underwent incredible change in becoming a professional ballet company. Professional dancers and trainees were hired and lead the ranks of students as audience support continued to grow. Invaluable staff members were added one by one, first as volunteers and then as paid employees. These changes behind the scenes gave way to thrilling development on our stage, as our productions continued to see a rise in technique, expression, and popularity.
In 2013, Florida Classical Ballet Theatre became Ballet Palm Beach, a company of fifteen dancers: six student trainees and nine professionals. The name change symbolized a new era of productivity and twelve years of finding our footing in a wonderfully supported community.
Currently, Ballet Palm Beach performs four main stage performances each season and has welcomed guest choreographers and repeteurs such as Leslie Peck from the Balanchine Trust, Christopher Huggins of Alvin Ailey,  and Roger Van Fleteren from Alabama Ballet to set pieces on the company. Artistic Director Colleen Smith has led the company in creative directions, choreographing a total of 5 full-length ballets based on literature such as Wonderland, Gatsby, and Snow White.
Want to present us at your venue? We tour our productions! Contact us at company@balletpalmbeach.org or 561.630.8235 for rates and arrangements.