Thursday, January 26th, 2023, 6pm
The Colony Hotel, Palm Beach
It will be a night to remember with cocktails under the stars, live auction, dinner in the style of Maxims of Paris, dancing to live music by The Switzer Sound and a Parisian inspired performance by Ballet Palm Beach and the famous Can-can!
Chairs: Brandie Herbst & Erin McGould
Honorary Chair: Anka Palitz
For ticket information, contact us at 561-630-8235.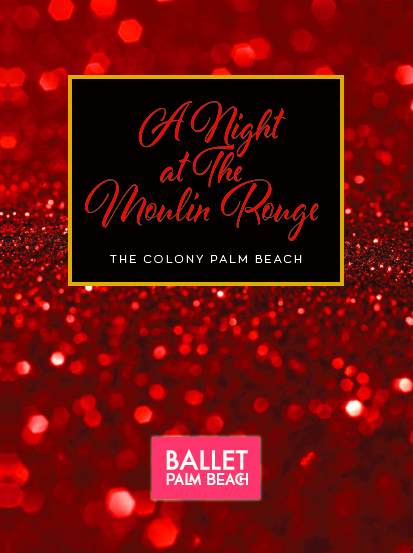 Thank you to our business sponsors:
Legends Radio
Evercore Wealth Management & Trust Company
Florida Power and Light
SpinaO'Rourke & Partners
Jimmy Choo
Bank of America
UBS Wealth Management
Hive Collective
FlowerMart
Big Time Restaurant Groups
First Republic Bank
Host Committee:
Stefanie and John Daddono
Heidi and Don Kiselewski
Erin and Sean McGould
Michelle and Woodward Middleton
Michele and Karl Ruppert
Anka Palitz
Aldo Palles
Carlyle and Keith Spina
Gala Sponsors:
Patricia and Edward Falkenberg
Elizabeth and Peter Keith
Joy and Mike Miltenberger
Deborah and Edward Pollack
Robin Woodard
Ballet Palm Beach is a 501(c)3 nonprofit organization.  Donations are tax deductible to the extent allowable by law.
For sponsorship, mail check or money order made payable to:
Ballet Palm Beach
10357 Ironwood Road
Palm Beach Gardens, FL  33410
Phone number for Fedex: 561-630-8235
PARIS SPONSOR $20,000
Complimentary Champagne Table for ten
Photo with dancer/board member to be used in press releases
Opportunity to address event attendees for up to three minutes of the gala
Ten VIP tickets to an upcoming ballet of your choice
Sponsor listing in invitations, program, press release, website, social media, email newsletters and print advertisements
MONTMARTE SPONSOR $10,000
Complimentary table for ten
Opportunity to address audience for up to two minutes at the Gala
Photo with dancer/board members to be used in press releases
Eight VIP tickets to an upcoming ballet of your choice
Sponsor listing in invitations, program, press release, website, social media, email newsletters and print advertisements
CANCAN SPONSOR: $7,500
Six complimentary tickets to the Gala
Six VIP tickets to an upcoming ballet of your choice
Sponsor listing in invitations, program, press release, website and social media
RED MILL SPONSOR: $3,000
Four complimentary tickets to the Gala
Four VIP tickets to an upcoming ballet of your choice
Sponsor listing in invitations, program, press release, website and social media
CABARET SPONSOR: $1,250
Two complimentary tickets to the Gala
Two VIP tickets to an upcoming ballet of your choice
Sponsor listing in invitations, program, press release, website and social media
INDIVIDUAL TICKET: $500