BALLET PALM BEACH Announces Partnership with The King's Academy Conservatory of Arts in WPB
Colleen Smith, Artistic Director of Ballet Palm Beach announced a partnership with The King's Academy Conservatory of Arts in West Palm Beach, through which the professional dance company will present four major ballets during the 2018-2019 season. The performances will be presented at the Academy's Page Center for Performing Arts, located at 8401 Belvedere Road (33411).
"We are so grateful to be able to perform at this beautiful new venue, in addition to our regular presentations at the Kravis Center," says Smith. "While our ballets at The King's Academy are for the general public and appeal to audiences of all ages, I'm particularly excited about the opportunity that the school's students will have to see professional dancers several times a year.
"I am thrilled that Ballet Palm Beach has made the King's Academy Theatre its home stage. I have long admired the incredible work on display from the ballet company over the years and to know that hundreds of people will be able to see quality art at such a high caliber at The King's Academy is exciting," says artistic director David Snyder. "Our students will gain inspiration as they have the privilege to watch true professionals showcase their craft and tell beautiful stories through the artistry of dance."
The first production by Ballet Palm Beach at The King's Academy will be Gatsby, which one local reviewer hailed as "a very clever and skillful adaptation of the Fitzgerald story."
November 2-4
+ Friday at 7 pm
+ Saturday at 1 pm & 7 pm
+ Sunday at 4 pm                
Gatsby is the transformation of F. Scott Fitzgerald's great American novel, The Great Gatsby, into compelling dance drama. Set in the Roaring Twenties, the tale is told through the eyes of Nick Carraway, neighbor to the enigmatic Jay Gatsby. Gatsby's pursuit of Daisy Buchanan leads to amazing wealth and tragic endings. Gatsby is the creation of Artistic Director Colleen Smith with music by Django Reinhardt, Fats Waller, Richard Whiting, Aaron Copland and other greats from the 1920's. (Ages 10 and up)
Discussing a previous performance of Gatsby, dance critic Rex Hearn praised the ballet's director for giving "her dancers the freedom to experiment, drawing on a large vocabulary of movements, and built this choreographed ballet around them, dance by dance… Each scene is headed by a quote from the novel, which the dancers use as a guide to their emotions and movements."
Tickets for Gatsby at The King's Academy are $30-$45 and may be purchased online at HERE or by calling 888.718.4253.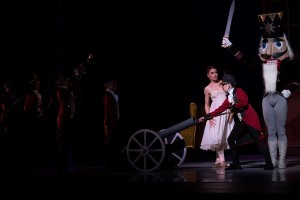 Ballet Palm Beach performances at The King's Academy include The Nutcracker (December 13-16), Romeo and Juliet (February 8-10) and Wonderland (May 10-12). The latter is a whimsical ballet with a fresh interpretation of Lewis Carroll's Alice's Adventures in Wonderland and Through the Looking Glass.
About Ballet Palm Beach:
Ballet Palm Beach (BPB), the professional ballet company of the Palm Beaches and Treasure Coast, is a nonprofit 501(c)(3) ballet company dedicated to preserving the art of classical ballet by cultivating new visions in choreography, impacting the next generation through the discipline of dance, and enriching the community through this universal art form. Established in 2001, the company has become a fixture in Palm Beach County. Each year BPB produces main stage ballets as well as outreach shows, both locally and abroad. For more information about the professional company or its school, Ballet Palm Beach Academy, or to support BPB's outreach efforts call 561.630.8235 or visit www.balletpalmbeach.org.